Student life

,

Campus life

,
Back to School at the Catholic University of Paris
Published on September 21, 2020
–
Updated on September 21, 2020
The university community looks forward to welcoming both new and returning students. Welcoming and supporting students is our priority and our emphasis is on campus instruction, as much as possible.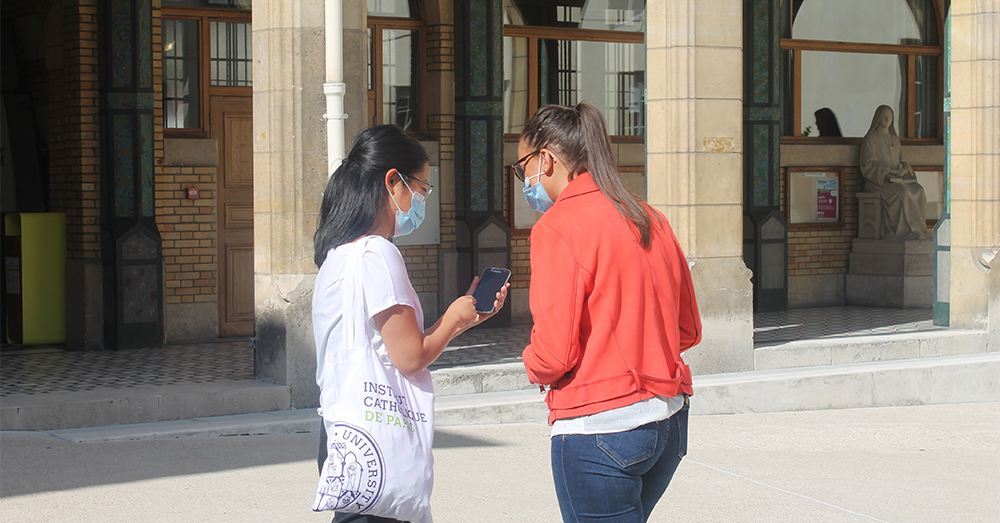 A l'ICP, une rentrée privilégiant le présentiel dans les meilleures conditions académiques et sanitaires
The Catholic University of Paris is committed to ensuring that the academic year gets off to a great start at this unique moment in time, with the help of all those involved. Under the current context of a pandemic, the Catholic University of Paris reaffirms the principles, which have guided its actions since the start of the Covid-19 health crisis and in regards to the latest recommendations from the Ministry of Higher Education, Research and 'Innovation (MESRI) and the Ministry of Labor.
All students welcome on campus
All students will be welcomed on campus to promote interaction and mutual knowledge. First year undergraduate students will be on campus every week, the others during alternate weeks, in order to limit the number of students on campus at the same time.
In addition, the Catholic University of Paris has adopted the following measures :
Obligation to wear a mask for everyone, everywhere on campus. No one may enter the campus without their mask.
Hand washing is required, all classrooms are ventilated and disinfected.
The traffic directions indicated by floor markings must be respected.
Distance learning for the integral development of the student
Since the start of quarantine, the Catholic University of Paris has successfully mobilized to put digital technology at the forefront of our pedagogy. The use of online resources has grown with the widespread use of Skype for Business for all professors at our institution. Exchange workshops and analysis of practices have been set up for professors. Digital referees have been appointed, to respond to the issues raised by the faculty and students. All of the remote educational content (videos, podcasts, commented slideshows, articles, archives) are available to students on the ICP digital platform.
Students will receive their schedules during our Welcome Week, which begins on September 7th. Those with special needs and those without digital tools, should inform ICP. Dedicated spaces will be available for them every week on campus.
The Catholic University of Paris is counting on the participation and responsibility of everyone to make the start of the 2020 school year a success.