Church & jardin des Carmes
A unique heritage dedicated to university life, culture and spirituality.
Saint-Joseph-des-Carmes church, the garden of the Carmelites and all other buildings are located in the Latin Quarter, at the heart of the Catholic University of Paris.
Saint-Joseph des Carmes church
The Saint-Joseph-des-Carmes church, consecrated in 1625, has gone through several important historical moments and had many assignments before becoming today the church in the heart of the site of the Catholic University of Paris, where are celebrated the great moments of university life: Solemn Mass comeback, Feast Day of ICP (Immaculate Conception), Feast of St. Thomas, patron of theologians. It is also the place of regular celebration of the Carmes Seminary, Chaplain of the Catholic University students, the Sunday community neighborhood and several prayer groups. It is placed under the responsibility of a president appointed by the Diocese of Paris.
Saint Joseph's Church is exceptional both for its architectural quality, but also as a symbol of a historical, intellectual and spiritual (religious Carmelites, martyrs of 1792, Lacordaire, Ozanam) on which the Univer.
One reaches the church by 70 rue de Vaugirard. Every Saturday at 15:00, takes place a guided tour of the church (except during August). Group visits are possible during the week (
mail.
)
The church site St. Joseph des Carmes :
www.sjdc.fr
Le Jardin des Carmes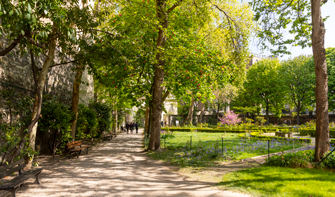 Jardin des Carmes, extending the architectural context of the church and the Carmelite Seminary, is an oasis of greenery in the heart of the 6th arrondissement. At the end of the 18th century, the garden was for cultivation of lemon balm whose monks were shooting a drink of their invention "melissa water Carmelite."